WElink launches its first UK low carbon modular pilot house during MIPIM UK
WElink today officially launched its first pilot low carbon modular house during a fringe event at MIPIM UK, hosted by its UK development platform Live Verde. THE CORNWALL Pilot House 1.0 is the first house to be built at WElink's Research and Development facility in Berkeley, Gloucestershire. The house is a three-bedroomed property which was developed using high level energy efficient design specification with modular construction.
WElink Operations Director Ray Noble, who led the development project, comments:
'The light gauge steel frame, including boarding, is manufactured in a factory before being transported and assembled on site. An external membrane and insulation is added soon after meaning that the modular build process creates a watertight envelope within two days. This means that internal fit out commences immediately and takes the façade and roof finishes off the critical path.
A variety of external finishes can also be used including brickwork/stonework, adaptable to local requirements, without extending the reduced build program. Renewable energy, together with battery storage, is installed as standard meaning the property is low carbon and energy efficient in both its construction and its operation.'
The development of the house has allowed WElink's designers, engineers, as well as its supply partners to experiment and test new construction methods, materials, and energy efficiency measures.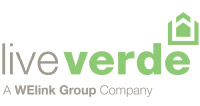 Live Verde's Chief Executive Stephen Haigh added:
'Live Verde has a national strategy to deliver 25,000 similar low carbon modular homes per year within five years. This ambitious strategy allows us to deliver homes two thirds quicker than traditional build and at a cost of between 20-30% less than local market rates.
We are also looking to develop local supply chains, including labour, to ensure the benefits of our business are not just felt by the new home renters/owners but also in the wider community.  
The launch of this Pilot House is a milestone for Live Verde and WElink. We have been delighted with the early responses from those who have seen the house first hand before today's official launch.'
Key features of the Pilot House are: Light weight galvanised steel framed structural panels – using British produced steel (60% recycled); Flat pack transportation; Swift assembly on site; Energy efficiency and renewable energy installed as standard; 75% energy bill reduction; Panels produced from modern composite materials; Produced on an industrial scale we are able to significantly reduce the build cost and time compared to traditionally built properties; Designed for a minimum 60 year life with minimum maintenance.
To view the timelapse video and to see the results visit: Timelapse & Results Videos